What and Who is SMART?
SMART UK is now the leading teaching organisation offering Auricular Acupuncture training for substance misuse to healthcare professionals here in the UK. Founded in 1995 by Sue Cox, the organisation has several thousand dedicated members working in prisons, hospitals, community drug and alcohol advice teams etc. and the training continues to be highly sought after.
Standards & Good Practice
SMART UK Members are considered the finest in their field due to the nature of the training that they undertook initially and due to the requirement for them to undergo continual professional development.
During the training, candidates are observed not only for needling technique and understanding of the premise of the treatment but also for their likely attitude in a treatment setting. If they successfully complete the course, they join a community of like-minded professionals working with respect and commitment to their clients. They are required to sign a Personal Statement that commits them to the way they are able to practice and to the SMART UK Code of Ethics. They join the SMART UK Register of Members and are required each year to undergo annual assessment and to pay an annual subscription to the organisation.
Director and Senior Tutor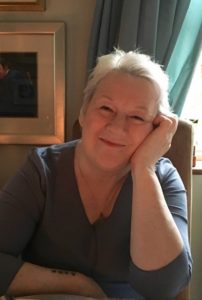 Sue is the founder and director of Smart-UK and all their associated organisations. Award winning pioneer in the field of addiction and published author on neuroscience of acupuncture for addiction. Passionate about recovery , Sue is the driving force behind Smart-UK. She is a Traditional Acupuncturist, a long standing member of the British acupuncture Council, and a counsellor. Sue's principals and ethos about education have informed the much sought after Smart-UK teaching for healthcare professionals, who welcome the clarity, expertise and no nonsense approach that they enjoy in all the courses that Smart-UK offer.
Sue's latest course is a 2 day workshop "Winning the battle of the abused brain" exploring the brain in relation to child sexual abuse, trauma and PTSD.
Her passion is for the highest educational and professional standards amongst those working with vulnerable clients and her focus is to empower the candidates that undertake her training, and their clients. Also to inform and lead the way to a change in approaches to addiction, trauma and mental health.
Sue is the co-founder of Survivors Voice Europe, is a member of the British Humanist Association, and the National Secular Society, is on the board of trustees for the "Godless grace Foundation" and is a patron of the "Pink Triangle"
She is currently completing her next book "Unholy alien and a Five Star recovery"
In 2014 Sue was honoured to receive "Inspirational Woman of the year award"
For more about Sue please visit: suecox.website
Neuroscience, pharmacology,molecular neuro science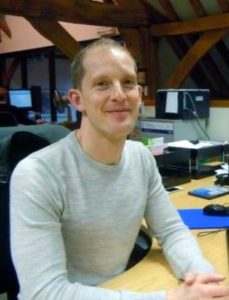 Dr.Kim Wager continues as a consultant for Smart-Uk , university lecturer, researcher and medical communications advisor. His expertise and research in neuro-science informs Smart-Uk and all their other associated organisations, meaning that the training is at the very forefront of understanding about the brain and the effects of addiction, trauma, and mental health.Kim has an additional specialisation in genetics and lysosomal storage diseases and was part of a research team into molecular neuro-degeneration for conditions such as Parkinson's disease, SLOS and similar disorders. Kim is qualified in acupuncture and chinese medicine and is a published author in the field of neuro-science and has contributed to many other health publications.
Counsellor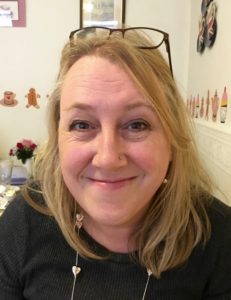 Louise Rooney is an experienced integrative psychotherapist,ethics and clinical standards tutor and public sector trainer. Louise works with a variety of clients, but has a specialisation in co-dependency, and survivors of childhood sexual abuse, and training healthcare professionals in that arena. She is also a commissioned training course author, having written and facilitated a number of workshops for professionals. Louise works alongside a number of organisations including Smart-Uk, Survivors Voice -Europe, Safeline Warwick and has recently taken up a position as ethical advisor for UK fostering charity. She is one of the few "ISVAS" (Independent Sexual Violence Advisors to the courts.Louise has written a number of articles fro European and US publications and is currently writing a book about co-dependency.
"Without doubt the most interesting and educational course I have attended"
"The content of the course far exceeded my expectations"
"The tutors passion regarding the subject is infectious"
"I will be able to use this tool confidently and professionally with the knowledge that I am not alone in the future, that there is always going to be someone at the end of a phone if I should need help or advice"
"This is the most beneficial, informative and interesting training I have ever done"
"You two tutors do this all the time and yet you still manage to make it so fresh and exciting and your enthusiasm shines through"
"After the training, I feel very pleased to be a member of S.M.A.R.T UK"
"Very well structured course, comprehensive and covered more than I expected"
"Very impressed with the extent of the tutors knowledge"
"Inspired me to look further into complimentary therapies"
"Feel empowered, confident, with another string to my bow!"
"Excellent standard of tuition ­ the best I have personally received in 28 years of prison service courses"
"Presentation lively and thought-provoking"
"The mixture of theory and practice exercises was pitched just right and maintained concentration and enthusiasm levels"
"Confidence building experience and ongoing support from S.M.A.R.T. UK comforting and thorough"
"This is really going to make a huge difference to our clients – empowers us to keep doing what we do"
SMART UK Advisory Board
One of the things that sets SMART apart from is their stance on regulation and they are the only providers of this kind of training who already have VSR (Voluntary Self Regulation) requirements in place. Included in this is not only the ethical and practice framework that underpins the organisation and their members but it is overseen by the SMART UK Advisory Committee. This is a group made up of both members and non-members that bring a diverse set of skills and perspectives to the SMART organization. Their role is to ensure that SMART continues to be an 'organic' company dedicated to its members and their patient groups, that its training and structure are up to date with requirements in the field of Substance Misuse, that any necessary disciplinary actions or changes to policy are addressed and that the evolution of the organisation continues in an appropriate manner.
ABC, Birmingham
ACT Wycombe
Action Housing Association, Derby
Addaction (HMP Guys Marsh)
Addaction Aylesbury
Addaction Bedford
Addaction Blackpool
Addaction Boston
Addaction Brent
Addaction Brown and White
Addaction Cheshire
Addaction Chester
Addaction Crawley
Addaction Crewe
Addaction Cumbria
Addaction Derby
Addaction Derby
Addaction Durham
Addaction Grantham
Addaction Grimsby
Addaction Hackney
Addaction Halton
Addaction Holton
Addaction Ilkeston
Addaction Leamington
Addaction Leicester
Addaction Lincoln
Addaction Luton
Addaction Macclesfield
Addaction Middlesbrough
Addaction N. Devon Alcohol Interventions
Addaction Newcastle
Addaction North Devon
Addaction Peterborough
Addaction Redcar
Addaction Ripley
Addaction Sandwell
Addaction Scunthorpe
Addaction Southern Derbyshire
Addaction Teeside
Addaction Tower Hamlets
Addaction Truro (CADA)
Addaction Walsall
Addaction West Bromwich
Addaction Whitehaven
ADSIS Cannock
ADSIS Stafford
African Caribbean Community Initiative
Aheads
Albert Centre, Middlesbrough
Anchor Project
Aquarius, Northampton
Arch Initiatives Warrington
ART Service, Maudsley NHS Trust, London
Ashgate Hospices, North Derbyshire
Assertive Outreach, Chelmsley Wood
Australian (Sydney) Correctional Services
Azaadi Community Centre
Barker Street Service, Solihull
Barnet Drug and Alcohol Service
Benzodiazepine Service, Mold
Birmingham and Solihull Mental Health Trust
Birmingham DAT
Birmingham DIP
Birmingham Drugline
Birmingham HIAH
Birmingham Social Care
Blackburn Substance Misuse Services
Bristol Drugs Project
CAIS Ltd., Wales
Camberwell Community Drug Project, London
CAN YOT, Northants
Canada Active Members
Cardiff Alcohol and Drug Team
Cefn Coed Hospital, Wales
Childcare Network
Christie Specialist Cancer Treatment Hospital, Manchester
Colston Health Centre (Homeless Community), Birmingham
Compass Nottingham
Corby Mental Health Trust
Coventry and Warwickshire Primary Care Trust
Coventry Community Alcohol Services
Coventry Foyer
Cranstoun Drug Services, Warwickshire
Cranstoun Drug Services, Wimbledon
D A S P, Coventry, Durham
D'n'A, Newcastle-upon-Tyne
DECCA, Wednesbury
Deeside Community Hospital
Deeside Counselling Centre
Derby Primary Care Trust
Derbyshire Mental Health Services
Discovery and Caddy, Leicester
Double Impact, Nottingham
DRR The Loft, Birmingham
Drug Concern, Birmingham
Drug Solutions, Birmingham
Drugaid Monmouthshire
Drugaid, Cardiff
Drugaid, Merthyr Tydfil
Drugline, Lancashire
Druglink, Stoke-on-Trent
Drugs and Homeless Initiative, Bath
Dudley Beacon
Dudley Youth Offending Team
Easington Primary Care Trust
Eclipse, Tyne and Wear
Escape Family Support, Blyth
Flintshire Youth Offending Team
Framework Housing Association, Nottingham
Glanrafon, Wrexham
Greenwich Substance Misuse Engagement Team
Gwent Alcohol Project
Gwent Crime Reduction Initiative
Gwent Police and Crime Reduction Initiative
Hadrian Clinic Pyshical Treatment Centre, Northumberland
Hafan Wen, Wrexham
Harplands Hospital Combined Healthcare Trust, Staffordshire
Heart of Birmingham PCT
Hereford and Worcestershire Alcohol Agency
Herefordshire Community Safety and Drug Partnership Hinckley & Bosworth Borough Council
Hinckley Young Peoples Information Centre
HMP Acklington
HMP Ashwell
HMP Belmarsh
HMP Birmingham
HMP Blakenhurst
HMP Brinsford
HMP Brixton
HMP Bronzefield
HMP Cardiff
HMP Doncaster
HMP Dovegate
HMP Drake Hall
HMP Durham
HMP Edmunds Hill
HMP Everthorpe
HMP Featherstone
HMP Foston Hall
HMP Frankland
HMP Frankland DSPDU
HMP Full Sutton
HMP Gartree
HMP Glen Parva
HMP Hewell Grange
HMP Highpoint
HMP Holme House
HMP Kingston
HMP Kingston
HMP Leicester
HMP Lincoln
HMP Lindholme
HMP Littlehay
HMP Long Lartin
HMP Lowdham
HMP Lownewton
HMP Manchester
HMP Moorland
HMP Morton Hall
HMP North Sea Camp
HMP Nottingham
HMP Peterborough UKDS
HMP Prescoed
HMP Ranby
HMP Rye Hill
HMP Shrewsbury
HMP Stafford
HMP Stocken
HMP Sudbury
HMP Swansea
HMP Swinfen Hall
HMP Usk
HMP Wakefield
HMP Warren Hill
HMP Wellingborough
HMP Whitemoor
HMP Wolds
HMP Woodhill
HMPYOI Aylesbury
HMPYOI Hindley
HMPYOI Lancaster Farms
HMPYOI Onley
HMPYOI Reading
HMPYOI Stoke Heath
HMPYOI Swinfen Hall
HMPYOI Warren Hill
Homeless Alcohol Team, Birmingham
Horizon House
In-volve, Reading
Inroads, Cardiff
Inward House Projects
Ireland Active Members
Italy Active Members
John Storer Clinic, Nottingham
Kaleidoscope, Newport
Kent and Medway Partnership Trust
Kettering Youth Offending Team
Lauren's Link Family Support, Derby
Leamington Spa Community Alcohol Services
Leicester Community Partnership Trust
Leicestershire County Council
Ley Community, Oxford
Life Matters Counselling Centre, Nottingham
Lifeline
Lincolnshire DAAT
London Borough of Newham
Manchester Smoking Cessation Service
Markham Miners Welfare Society
Mary Street Community Drug Team, Worcester
Maudsley Community Drug and Alcohol Team
Maudsley Community Drug Team, London
Mimosa Lodge, Lincs
Mount Carmel Hospital, London
NACRO, Hartlepool CDT
New Direction, Warwickshire
New House Drug and Alcohol Unit
New Zealand Active Members
Newcastle Social Services
Newham CJIT
Next Generation, Leicester
Norman Imlah Day Centre, Birmingham
North Birmingham Mental Health Trust
North East Wales NHS Trust
North Manchester General PCT NHS Trust
Northampton Community Healthcare Trust
Northampton County Council
Northampton Drug and Alcohol Service
Northampton Probation
Nottingham City Youth Offending Team
Nottingham Criminal Justice Intervention Team
Nottingham Probation
Nuneaton and Bedworth Community Drug Team
Nuneaton Community Alcohol Services
Oadby and Wigsston Borough
Ogwr Dash, Bridgend
Phoenix Futures
Poppies, Walsall
RAPT
Reach Day Programme, Crime Reduction Initiative, London
Reach Out, Wiltshire
RSH Shelton Mental Health Trust
Rugby Community Alcohol Services
Rugby Community Drugs Team
SAAS, Staffordshire
SADIE, The Hart Centre, Birmingham
Salford Royal Hospital, Manchester
Salvation Army
Sandwell Mental Health and Social Care Trust
SERCO, Premier Prisons
Shrewsbury Community Substance Misuse Services
Shrewsbury Probation Service
Shropshire DIP
SIFA, Birmingham
Slade Road Centre, Birmingham
SPODA, Chesterfield
St. Georges Hospital, Cramlington
St. Mary's Hospital, Manchester
St. Michael's Hospital, Warwick
St. Paul's Hospital, Worcester
Stockingford Clinic, North Warwickshire
Stratford-on-Avon Community Drug Team
Sub-Zero, Northampton
SUDDS, Carmarthen
Sure Start Midwives
SWADS, Swindon
Swansea Community Drug and Alcohol Team
Swanswell Trust, Midlands
T3 Young Persons Substance Misuse Services, West Midlands TEDS, South Wales
Tees & NE Yorks NHS Trust, Forensics
Tees Esk and Wear Valley NHS Trust
Terrence Higgins Trust
The Angel Drug Services, London
The Ashleigh Foundation, Blackpool
The Bridge, Chelmsley Wood
The Edge, Berkshire
The Health Exchange, Birmingham
The Health Shop, Nottingham
The Healthy Living Project, Wrexham
The Hollies, Dartford
The Hutton Centre, York
The Lock, Stoke-on-Trent
The Maltings, Nottingham
The New Connection, Newquay
The Princes Trust Stoke on Trent College
The Safe Project, Birmingham
The Source, Wiltshire
The Venture Centre,Worksop
The Wallich Clifford Community, Cardiff
The Warehouse, Dudley
The Woodbourne Priory, Midlands
The Zone, Wolverhampton
Trafford Substance Misuse Services, Manchester
Turning Point Birmingham, Rough Sleepers Team
Turning Point Cardiff
Turning Point Derby
Turning Point Hungerford Drug Project
Turning Point Leicester
Turning Point Loughborough
Turning Point R2W, Cardiff
Turning Point Slough
Turning Point Soho
Turning Point Stafford
Turning Point Worcester
Turning Point, Zephyr Daycare
Walkways, Staffordshire
Walsall Crime Reduction Initiative
Walsall Primary Care Trust
Walsgrave Primary Care Trust, Coventry
Welcome, Birmingham
Werrington Clinic, Staffordshire
West Kent NHS and Social Care Trust
West Norfolk Primary Care Trust
Westminster Drugs Project
WGCDA, Swansea
Wheeler Street Service, Birmingham
Womans Work, Derby
Woodleigh Beeches, South Warwickshire PCT, Warwick Worcester Druglink
Y Smart, Devon
YMCA Bridge, Wolverhampton
Young Addaction Derby